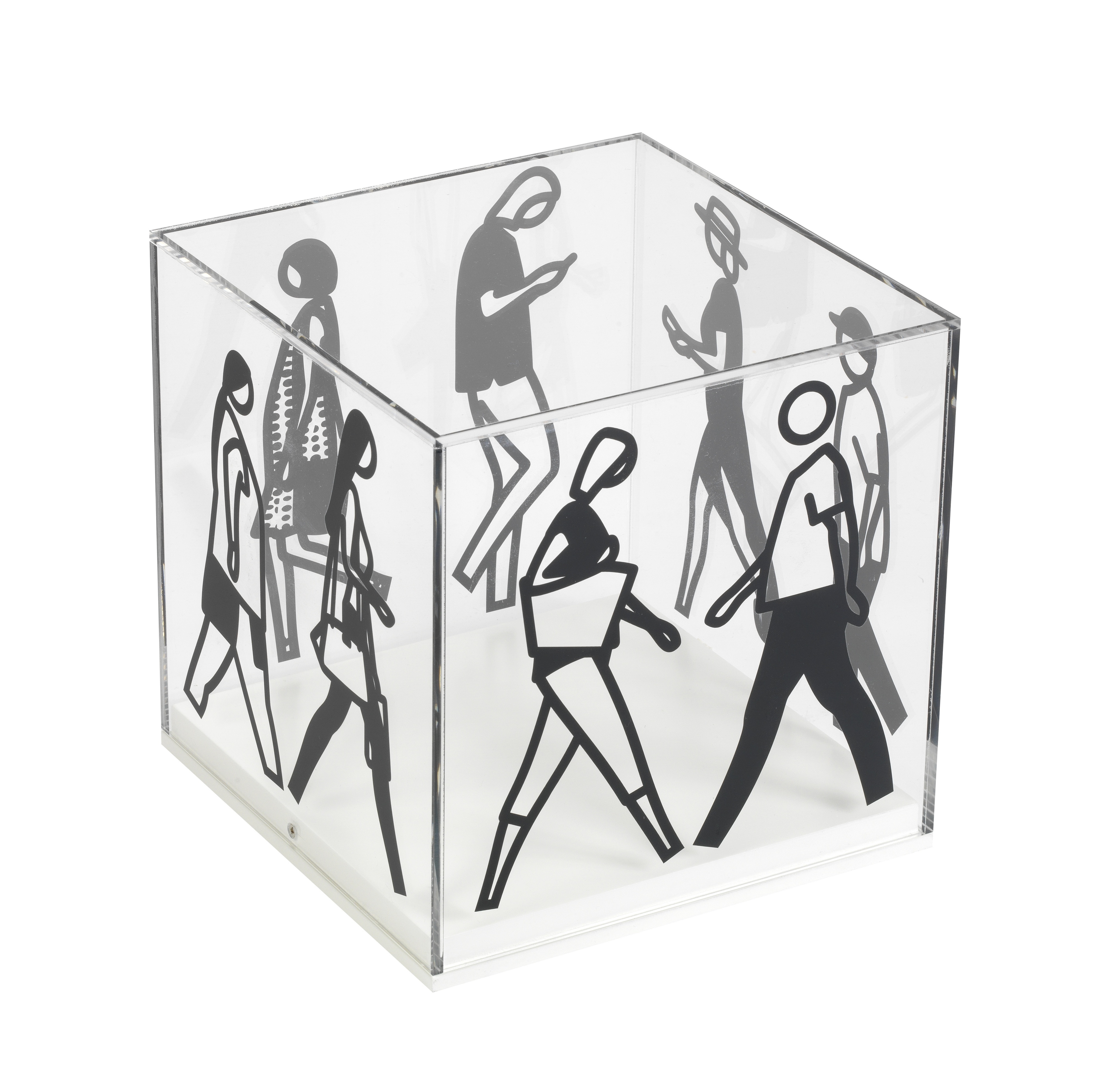 Julian Opie, Walking in Melbourne, 2016
Cure3 is an art project devised by Artwise in partnership with Bonhams to raise awareness and funds for the charity, The Cure Parkinson's Trust (CPT). The charity's innovative approach to research has offered renewed hope for people living with Parkinson's as it only funds work which has the capacity to slow, stop or reverse Parkinson's, a degenerative disease which currently affects more than 10 million people worldwide.
In March 2017 Cure3 launched with 53 artists of international standing all creating an art work using a bespoke Perspex box 20cm3 with the box serving as a space to frame, support or contain each work, allowing for multiple approaches and interpretations.
The artworks were sold and all the money raised went to CPT to help find a cure for Parkinson's Disease.
Cure3 2017 artists:
Rebecca Ackroyd, Alice Anderson, Ron Arad, , Hrafnhildur Arnardóttir / Shoplifter, Rana Begum, Tony Bevan, Peter Blake, Willard Boepple, Rob and Nick Carter, Juliana Cerqueira Leite, Daniel Chadwick, Jake and Dinos Chapman, Mat Collishaw, Shezad Dawood, Bouke de Vries, Peter Doig, Knopp Ferro, Margarita Gluzberg, Andy Goldsworthy, Noémie Goudal, Subodh Gupta, Nicholas Hatfull, Sean Henry, Damien Hirst, Henry Hudson, Paul Huxley, Alison Jackson, Ben Johnson, Allen Jones, Idris Khan, Bharti Kher, Rachel Kneebone, Eva LeWitt, Liliane Lijn, George Henry Longly, Sarah Lucas, John McLean, Polly Morgan, Annie Morris, Julian Opie, Grayson Perry, Cathie Pilkington, Stephanie Quayle, Boo Saville, Conrad Shawcross, Yinka Shonibare, Sissi, Amy Stephens, Gavin Turk, Rebecca Warren, Hugo Wilson, Rose Wylie, Jonathan Yeo.
Cure3 2017 was made possible thanks to the generous support of:
Bonhams, The David Ross Foundation, London Gatwick Airport, Willis Towers Watson, 01 Art Services, Artlogic and The late Roy Bard.
Refreshments for the opening night were kindly supplied by Black Cow Vodka, Pommery and Seedslip.